Our Doctors
Nancy Chen, MD
After graduating from medical school, Dr. Nancy Chen pursued a research fellowship at the Doheny Eye Institute/University of Southern California. She then completed a one-year internal medicine internship at Mount Sinai School of Medicine in New York, NY. After the internship, Dr. Chen continued her research fellowship at the Center for Sight at Georgetown School of Medicine in Washington, DC. Her post-graduate training continued with a three-year ophthalmology residency at the University of Texas Health Science Center at San Antonio, Texas.
Dr. Chen has multiple publications in the Ophthalmic Society and has received several awards, including "Resident of the Year" from the University of Texas Health Science Center at San Antonio (2000) and the "Gordon Award" from the Alamo City Ophthalmology Clinical Conference (1999). She has also been active in community service in Hawaii since she started to practice here. The activity she considers most honorable is the Senior Program that helps elderly citizens who don't have insurance.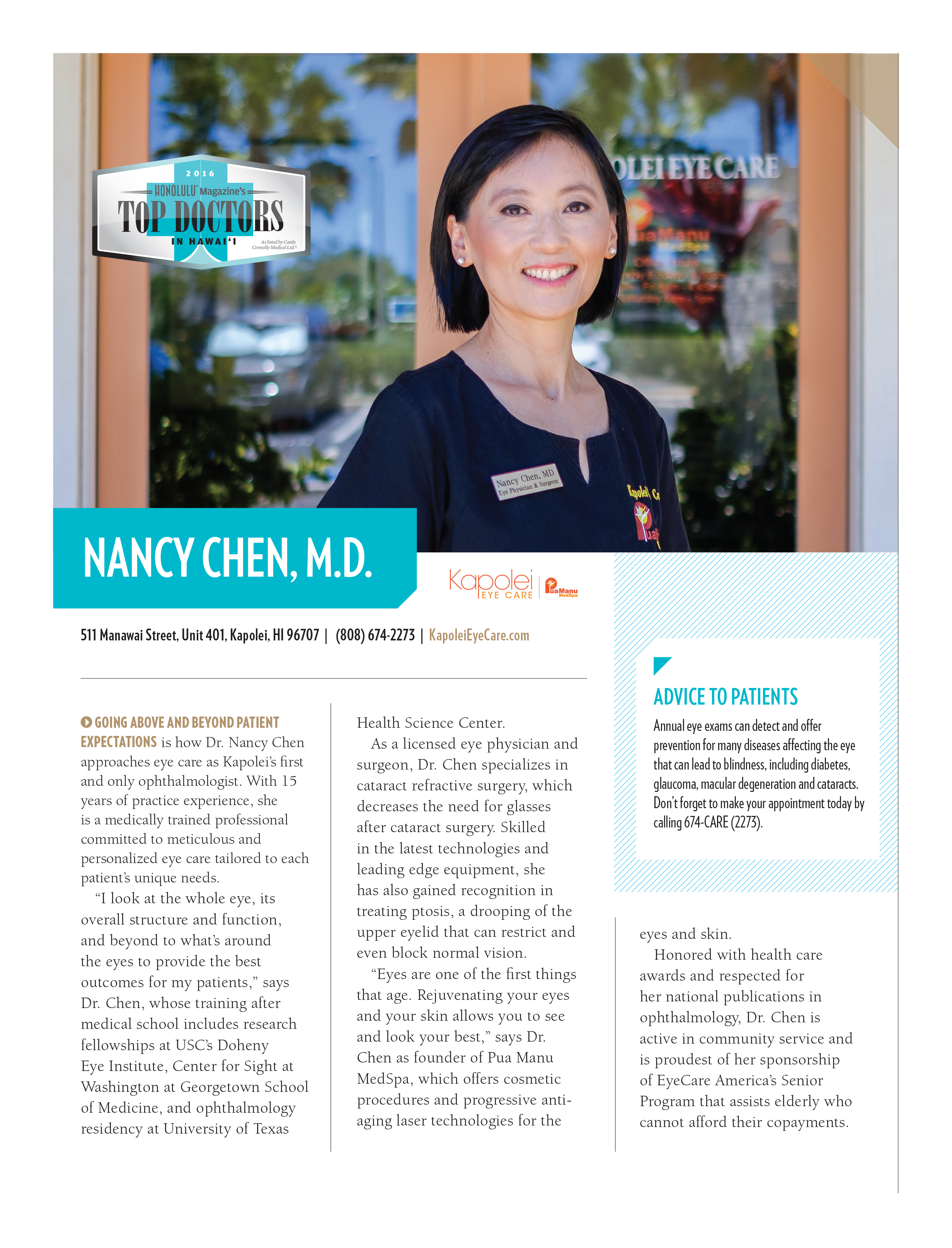 Dr. Chen is fluent in English, Chinese, Portuguese and Spanish, speaks some Japanese, and is learning Illocano.
She is currently an Adjunct Faculty of the A.T. Still University in Arizona, she is helping train new Physicians
Tu-Anh Gopani, OD
Dr. Tú-Anh Gopani, a Therapeutic Certified Optometrist, is a graduate of Illinois College of Optometry.
She received her Bachelor Degree from Indiana University and started working in the optical industry both before and while in optometry school. She lived and worked in Hawaii for several years after optometry school but later moved to Columbia, SC to open a private practice with her husband. Their private practice, Eye Concepts, received the 2011 Best of Columbia Award in the Optometrists category by the U.S. Commerce Association (USCA) which recognized outstanding local businesses throughout the country.
Feeling the need to come back to Hawaii where they feel more at home, Dr. Gopani and her husband sold their thriving private practice and returned to Kapolei, HI last year. Dr. Gopani is excited to join Dr. Chen at Kapolei Eye Care where she hopes to continue providing patients with exceptional care regarding their eye health. She enjoys doing voluntary work and gardening in her spare time. She speaks fluent English and Vietnamese and know some French.