Our Doctors
Nancy Chen, MD
After graduating from medical school, Dr. Nancy Chen pursued a research fellowship at the Doheny Eye Institute/University of Southern California. She then completed a one-year internal medicine internship at Mount Sinai School of Medicine in New York, NY. After the internship, Dr. Chen continued her research fellowship at the Center for Sight at Georgetown School of Medicine in Washington, DC. Her post-graduate training continued with a three-year ophthalmology residency at the University of Texas Health Science Center at San Antonio, Texas.
Dr. Chen has multiple publications in the Ophthalmic Society and has received several awards, including "Resident of the Year" from the University of Texas Health Science Center at San Antonio (2000) and the "Gordon Award" from the Alamo City Ophthalmology Clinical Conference (1999). She has also been active in community service in Hawaii since she started to practice here. The activity she considers most honorable is the Senior Program that helps elderly citizens who don't have insurance.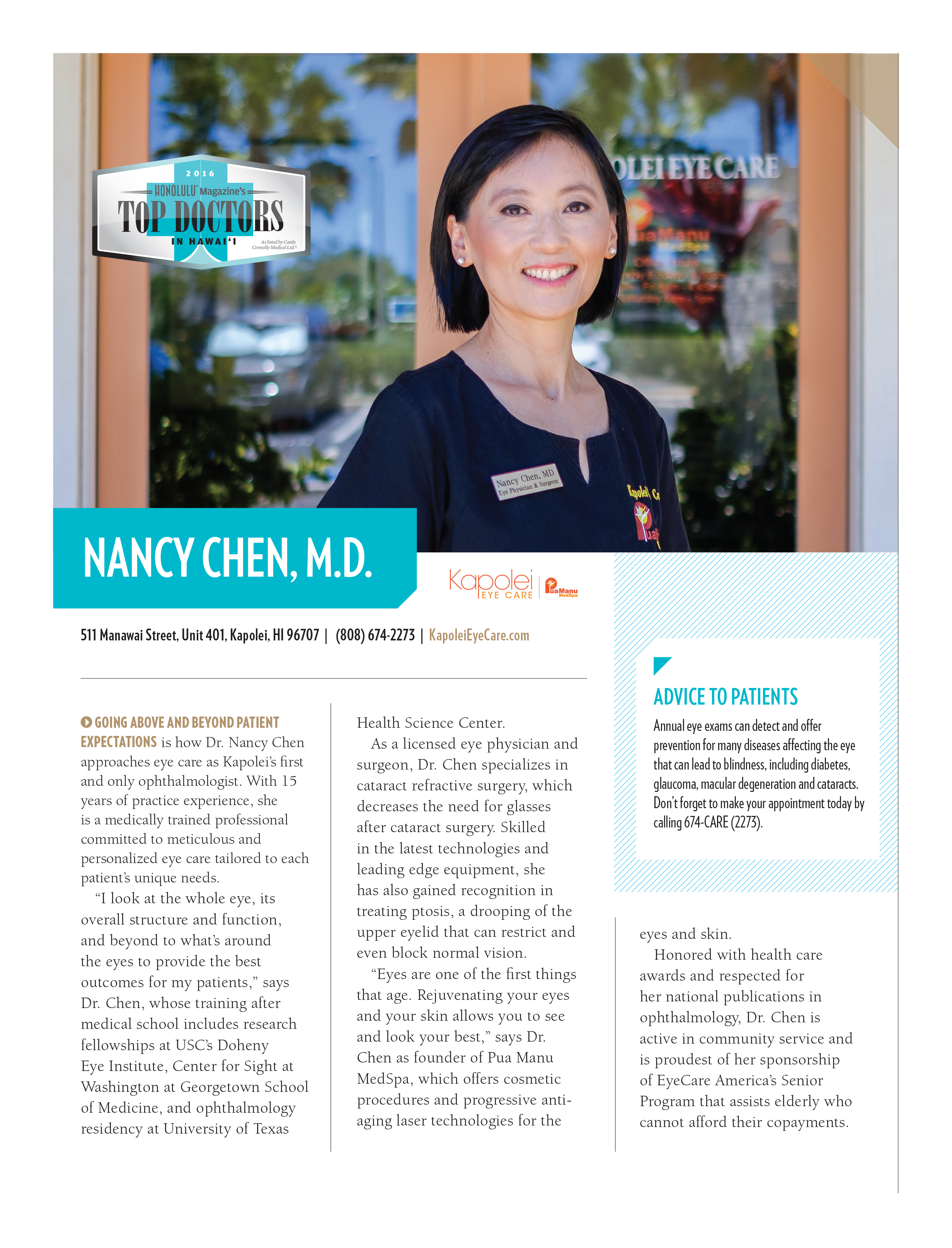 Dr. Chen is fluent in English, Chinese, Portuguese and Spanish, speaks some Japanese, and is learning Illocano.
Kenneth Baum, M.D.
Dr. Baum brings us 30 plus years of experience as the Glaucoma Specialist for Kaiser Permanente in Honolulu, providing all of the glaucoma subspecialty care to 20% of Hawaii's population making him the most experienced in his field in the state. He has been chosen as a Honolulu Magazine Hawaii's Top Doctor for the last six years in a row. Dr. Baum specializes in all forms of cataract surgery, combined cataract and glaucoma surgery and glaucoma surgery and also provides general eye care.
Dr. Baum grew up in Cherry Hill, New Jersey, on the outskirts of Philadelphia.
He attended the Honors Program at the University of Michigan where he graduated with a Bachelors Degree in Cell and Molecular Biology.
After graduating college, he was awarded a prestigious Medical Scientist Training Program fellowship grant to study for an M.D. and a Ph.D. degree at the Albert Einstein College of Medicine in New York.
He quickly realized that his true interest was in clinical medicine, taking care of patients, and so he decided to leave the research behind him and transferred to The Rutgers Robert Wood Johnson School of Medicine to complete his M.D. Degree.
After a year as an intern in Internal Medicine, Dr. Baum completed his training in Ophthalmology at the University of Wisconsin, Madison.
While in his Ophthalmology Training he had the opportunity to travel with one of his professors, Guillermo DeVenecia M.D. to provide free medical and surgical eye camps in Pangasinan Province in the Philippines.
On that trip Dr. Baum had two life changing experiences. One was finding a love for bringing blindness curing eye care and surgery to the under-served peoples in Asia and the other was discovering Hawaii on his way back home.
After completing his training Dr. Baum was recruited to be the glaucoma specialist for Kaiser in 1990. During his time at Kaiser Dr. Baum handled every type of glaucoma that there is such that not a single patient had to be referred out of Kaiser or to the mainland in all of that 30 years. During that time, he became very involved with the Seva Foundation of Berkeley, California going on numerous volunteer eye surgery missions to Tibet, Cambodia and Nepal and serving as an Advisory Board Member.
He developed a glaucoma surgery procedure in 1994 which was designed for third world applications and he presented his work at national and international meetings in Las Vegas, San Francisco, Sydney and Bangkok.
Dr. Baum adapted to our local Hawaiian culture and quickly became a true Kama'aina.
Dr. Baum is known as "Dr. Ken, The Biggest Ophthalmologist in Honolulu" in Hawaii's powerlifting and bodybuilding communities winning championship titles as Mr. Designer Body and Mr. Hawaiian Islands.
Dr Baum is married and has four sons, one daughter and two grandsons. He is excited to bring his years of experience to Kapolei Eye Care and join Dr. Nancy Chen M.D. and our team to assist in delivering the finest eye care available on the Leeward side.